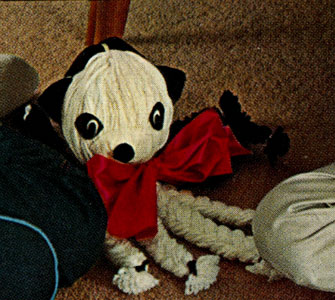 MATERIALS
BERNAT Luxor (1 oz. skein) — 4 each of Black (M C) and White (C C)
1 Styrofoam ball No. 5
1 package BERNAT felt pieces
Cotton batting
1 yd 4 inch satin ribbon
Matching sewing thread
BODY: Open 4 M C skeins. Lay one skein next to the other, matching ends of skeins. Open 4 C C skeins. Lay each skein next to the M C skeins, matching ends of skeins. Untie knots at ends (lower edge). Cut extra long strands even at lower edge. Using 1 of the extra C C strands, tie strands loosely at upper edge (top of head). Cut all strands at lower edge. Insert ball, placing tie at center and placing the 2 colors at right angles to the tie. Spread yarn smoothly to cover ball, being sure to place the 2 colors evenly, and tie very tightly 5 inches from top of head to form neck.
LEGS: Divide strands evenly into 4 M C, 4 C C sections and braid. Tie each braid together with opposite color 2 inches from end. Trim ends.
FACE: Following colors as printed on drawings, cut pieces of felt to form face. Spread M C and C C yarn directly below top of head and pin ears in place. Stuff snoot; with cotton batting. Following diagram, pin remaining pieces. Sew all pieces in place. Tie ribbon around neck into a bow.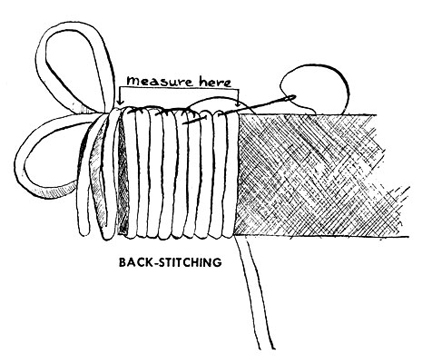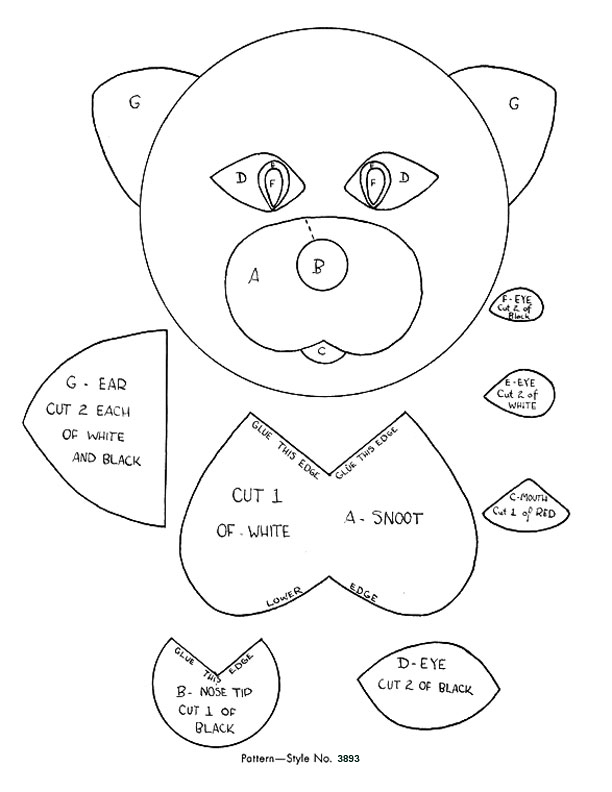 other patterns in leaflet: