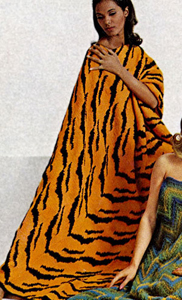 Size: 49 x 72 inches
Materials Required:
AMERICAN THREAD COMPANY
"DAWN" KNITTING WORSTED
8 - 4 ounce skeins Orange
4 - 4 ounce skeins Black
1 Pr. Knitting Needles No. 8 OR ANY SIZE NEEDLES WHICH WILL RESULT IN STITCH GAUGE BELOW
Plastic Crochet Hook Size G
GAUGE: 4 sts = 1 inch
With Orange cast on 48 sts and work in stockinette st (K 1 row, P 1 row) following chart working 4 panels (2 of 1st panel, 2 of 2nd panel) repeating between A and B until each panel is 72 inches long. Bind off.
FINISHING: Block each panel. Weave panels tog having two 1st panels to right of center of afghan and two 2nd panels to left of cen­ter taking care to match patterns.
BORDER: With Black work a row of s c all around working 3 s c in each st at corners and working 1 s c in each row on long sides and 1 s c in each st at top and lower edges, join in 1st s c. 2nd ROW: Working into back loop of sts only, work 1 s c in each s c working 3 s c in center st at corners, join. 3rd ROW: Working in back loops of sts 1 sl st in each s c, join, cut yarn.

other patterns in leaflet: