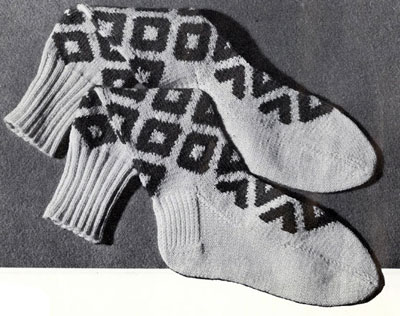 Sizes 9½ to 12½
COATS & CLARK'S "RED HEART" NYLON AND WOOL, 3 PIy (1 oz. "Tangle-Proof" Pull-Out Skeins): 3 skeins of No. 261 Maize for Sizes 9½ to 10½, 4 skeins for Sizes 11 to 12½ and 1 skein of No. 835 Periwinkle for all sizes.
Knitting needles, 1 pair No. 1 and No. 2.
13 bobbins.
GAUGE: 8 sts = 1 inch; 11 rows = 1 inch.
Starting at cuff with No. 2 needles, cast on 68 sts. Change to No. 1 needles and work in k 2, p 2 ribbing for 3½ inches, decreasing 1 st on last row (67 sts).
NOTE: When changing colors always twist the unused color around the other to pre­vent making holes. Chart shows one half of each row. To complete row, omit center stitch, then follow row back to beginning.
Wind 7 Maize and 6 Periwinkle bob­bins. Change to No. 2 needles and work in stockinette st (k 1 row, p 1 row) as follows: 1st row: With Maize k 10, attach Periwinkle and with Periwinkle k 3, (at­tach Maize k 19, attach Periwinkle k 3) twice; attach Maize k 10. Starting with 2nd row on chart, follow chart until 86 rows have been completed, ending with a p row. Break off.
Divide sts for Heel as follows: Slip the first and last 16 sts onto 2 stitch holders to be worked later for Heel.
INSTEP … Attach yarn, decreasing one st at each end of first row, work as be­fore over the 33 sts to top of chart. Work one more row with Maize only, decreas­ing 3 sts evenly spaced—30 sts. Break off and fasten. Remainder of sock is made with Maize only.
See Diamond Argyle Socks Pattern for Completion of Argyle Socks.

other patterns in leaflet: