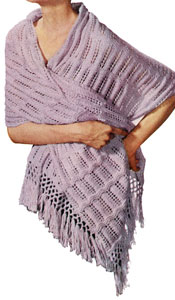 22 x 68 Inches Without Fringe
This stole can be made with any of the following:
"DAWN" or CLOVER LEAF" NYLON POMPADOUR
or
"DAWN" or "CLOVER LEAF" NYLON
or
"DAWN" MEDIUM WEIGHT POMPADOUR
or
"DAWN" BABY YARN
10 ozs. Baby Lavender or Orchid or color desired.
1 pr. plastic knitting needles No. 6.
Cast on 135 sts and K 5 rows.
6th Row. * K 2 tog, K 2, Y O, K 1, Y O, K 2, K 2 tog, repeat from * across row.
7th Row. Purl across row. Repeat the 6th and 7th rows 7 times.
Next 6 rows—K across each row.
Repeat from 6th row until work measures 68 inches from beginning, bind off.
FRINGE: Wind yarn over a 10 inch cardboard, cut one end. Using 5 strands, double in half and knot through center st of last 2 rows at lower edge of each solid sec­tion and each lacy section (every 5th st) across end. * Take half of one group of fringe and half of next group of fringe, knot together ½ inch from 1st row of knots, repeat from * across row. Repeat last row of knots twice, trim evenly.
Finish opposite end to correspond.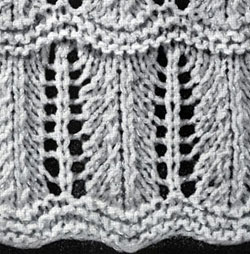 other patterns in leaflet: