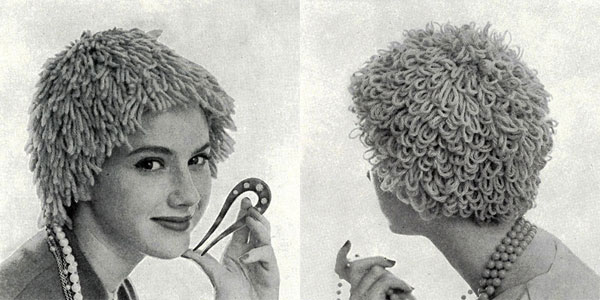 Materials Required:
AMERICAN THREAD COMPANY
"DAWN" KNITTING WORSTED
4 ounces Potter Gold or color of your choice.
1 pr. Knitting Needles No. 7
Gauge: 7 sts = 1 inch; 6 rows = 1 inch
Basic Wig: Cast on 80 sts and work in ribbing of K1, P1 for 7½ inches.
Next Row: K2 together (tog) across row.
Next Row: P2 tog across row, cut yarn leaving an end. Thread end into yarn needle and draw through all sts remaining on needle.
Fringe Wig: Cut yarn into 4 inch lengths, fold 4 inch length of yarn in half, insert hook in 1st K st of 1st row, pick up loop and draw ends through loops for fringe. Work a fringe in each K st across row. * Skip 3 rows and work a fringe in every K st across row. Repeat from * until section is covered.
To complete wig: Draw all sts at crown tightly together and sew seam.
Loop wig: Work Basic Wig. Thread a 6 yard length of yarn into yarn needle, knot end to form double strand. Attach double strand in 1st K st of 1st row. (See illustrations). * Holding a 1½ inch loop under left thumb, insert needle in next K st inserting needle from top to bottom, pull yarn through, insert needle to right of loop st inserting needle from bottom to top in same K st. Repeat from * across row. Skip 3 rows, work a row of loops same as 1st row of loops and con­tinue until section is covered with loops. Complete wig same as fringe wig.
If desired, trim with bows or giant rhinestone hairpin as illustrated.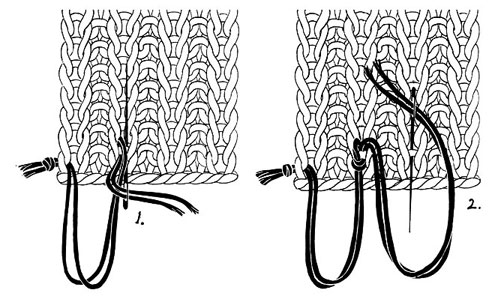 other patterns in leaflet: