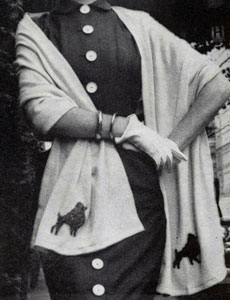 MATERIALS: NOMOTTA Mothproof Cashmere 100%, 16 one-half ounce pull skeins
KNITTING NEEDLES: One pair of straight Size 2 (standard)
ACCESSORIES: 5¼ yds of ½" Grosgrain ribbon; 2 Beaded Motifs
GAUGE: 8½ sts—1 inch
PATTERN STITCH: (stockinette st)
Row 1: Knit across.
Row 2: Purl across.
Repeat these 2 rows for pattern stitch.
With Size 2 needles cast on 156 sts. Work even in pattern st for 72 inches. Bind off.
FINISHING: Block to 18"/72". Face around the edges with grosgrain ribbon. Sew a motif to the center of each end about 2" from the edge.
other patterns in leaflet: