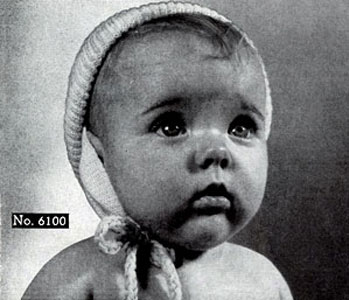 Jack Frost Wintuk Knitting Worsted—2 2-oz. Skeins, or
Jack Frost Knitting Worsted—1 4-oz. Skein
1 Pr. Standard Knitting Needles No. 3
HAT: With No. 3 needles cast on 90 sts. K 1, P 1, for 4½ inches, then K 1 row, P 1 row for 2 inches.
Decrease row— * Knit 2 tog. K 8, repeat from * ending K 8, purl back, repeat these 2 rows, having 1 st less between decreases until 16 sts remain.
Break yarn, leaving about 10 inches. Pull yarn through all sts and fasten.
Sew seams.
Fold back 2¼ inches of border.
Sew small pom pom on top of hat.
EARLAPS: With No. 3 needles cast on 24 sts. K 1, P 1, always knitting the first and last 2 sts for border. Work ½ inch, then K 2 tog. inside of border sts every other row until 8 sts remain. Bind off.
Make braids about 12 inches using 9 strands of yarn.
Sew braids to the bound off 8 sts.
Sew earlap in place.
other patterns in leaflet: