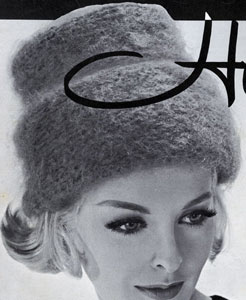 MATERIALS: FLEISHER'S, BEAR BRAND or BOTANY SUPRA MOHAIR (Imported, Brushed), 2 balls.
KNITTING NEEDLES: 1 pair "Boye" Needles, Size 13—or size you require to knit to gauge given below.
GAUGE: 5 sts = 2 inches; 7 rows = 2 inches
Note: Hat is made with 2 strands of yarn worked tog.
Take up 2 strands of yarn; leaving an 8 in. end for sewing; cast on 32 sts.
Row 1—wrong side—P 13, k 1, p 10, k 1, p 7, end at top edge of hat.
Row 2—K 7, p 1, k 10, p 1, k 13.
Repeat rows 1 and 2 once.
Short Rows—Row 5—P 13, k 1, p 10; turn.
Row 6—Slip 1 st as to k, k 9, p 1, k 13.
Row 7—P 13; turn.
Row 8—Slip 1, k 12. Repeat these 8 rows 8 more times.
Re­peat rows 1, 2 and 3 once more, end at top edge of hat. Bind off. Break yarn, leaving about a 30 in. end for sewing side edges tog.
FINISHING—Sew side edges tog. with a weaving st. Thread end of yarn left free at top of hat in tapestry needle and run yarn through sts in every 2nd row of top edge. Draw up tightly; fasten off securely. Do not block. Brush with plastic bristle brush.
other patterns in leaflet: