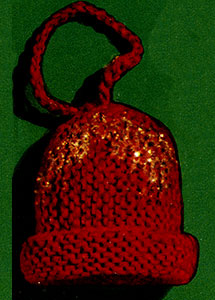 AMERICAN THREAD COMPANY "DAWN" PERMANENT "CRIMPSET" Nylon, Article N6
1 ball each White, Scarlet, or Medium Green (1 ball will make 6 Bells)
or
"STAR" BLEND YARN, Article 75
1 skein each White, Red or Dk. Green (1 skein will make 5 Bells)
1 pr. bone knitting needles No. 3
Directions are given for wool. "STAR" Blend yarn directions are given in brackets.
Cast on 14 (12) sts, K 1 row.
Next Row. * K 11 (9) sts, turn.
Next Row. K across 11 (9) sts, turn.
Next 2 Rows. K across entire row.
Repeat from * 14 (12) times, bind off.
TURN BACK: Pick up and K 31 (26) sts across bottom of bell.
K 1 row (wrong side of turn back). P 1 row. K 1 row. P 1 row. K 7 (5) rows, bind off. Draw top of bell together. Sew sides of bell above turn back together on wrong side. Sew the turn back on opposite side and fold back. Attach a 5 inch length of yarn at top of bell and tie in loop. If desired brush each bell with glue and sprinkle with artificial snow.
other patterns in leaflet: