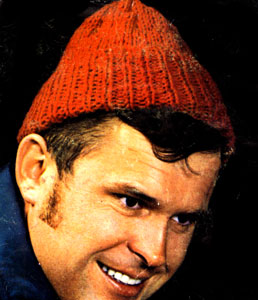 These directions are for small size.
Changes for medium and large sizes are in parentheses.
MATERIALS
BERNAT BLARNEY-SPUN (2 oz. balls) — 1
1 pair BERNAT-Aero straight knitting needles No. 10 (Canadian Needles No. 4)
OR ANY SIZE NEEDLES THAT WILL GIVE THE STITCH GAUGE GIVEN BELOW
GAUGE: 4 sts = 1 inch
Cast on 56(64-64)sts. K 1, P 1 in ribbing for 2½(3-4) inches. Then work even in stockinette st until piece measures 7(8-9) inches. SHAPE TOP: Row 1: * K 6, K 2 tog, repeat from * across row. Row 2 and all even rows: Purl. Row 3: * K 5, K 2 tog, repeat from * across row. Continue in this manner to dec 8 sts every other row, having 1 st less between decreases, until 8(8-12) sts remain. Break off yarn, leaving a 12 inch end.
FINISHING: Pull end through remaining sts and draw up tightly. Sew back seam. Steam. Make a pompon and sew to top of cap.
other patterns in leaflet: