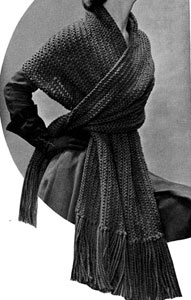 Approximately 66 inches by 20 inches
MATERIALS — Fleisher's Jumbo-Knit or Bear Brand Jumbolaine "A", 6 skeins.
Fleisher's Melody or Bear Brand Featherlaine "B", 1 ball.
Bucilla 14 inch Plastic Needles, 1 pair Size 13.
KNITTED GAUGE: 3 sts = 1 inch
With A, cast on 186 sts loosely.
Row 1—wrong side—K.
With B, k 2 rows. With A, k 2 rows. Repeat last 4 rows until there are 26 A stripes, end with first row of A. With A, bind off loosely as to k.
Block to 24 ins. by 62 ins. This stole is blocked 4 ins. wider and 4 ins. shorter than approxi­mate measurement given.
FRINGE—Wind A around a 10-in. cardboard; cut at one end. Knot 1 strand in end of each A and B rib. Trim fringe. Steam.
other patterns in leaflet: