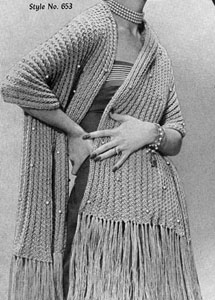 Approximately 68 inches by 20 inches
MATERIALS — Fleisher's or Bear Brand Petite Knitting Worsted, 6 (2-oz.) skeins and
Bucilla Twinklesheen, 7 balls.
About 63 Pearl Beads.
Bucilla Plastic Needles, 1 pair Size 13.
GAUGE: 5 rows = 1 inch
Using 1 strand each of Petite Knitting Worsted and Twinklesheen, cast on 101 sts.
Row 1—K 1, * p 2, k 2; repeat from * to end.
Row 2—P 1, * k 2, p 2; repeat from * to end.
Repeat these 2 rows for 60 ins. Bind off. Pin out and block to given measurements.
FRINGE—Wind each yarn separately around 10-in. card­board; cut at one end. Knot 2 strands of Petite Knitting Worsted and 4 strands of Twinklesheen in every 2nd st on short edges of stole. Trim fringe evenly. Steam. Trim with pearl beads as illustrated.
other patterns in leaflet: