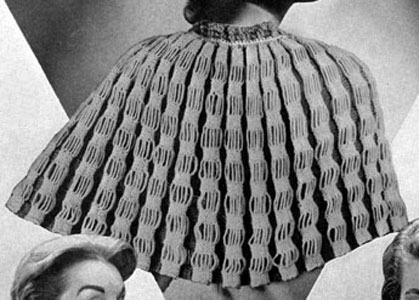 MATERIALS — Bear Brand Standard Knitting Worsted; or
Fleisher's Superior Knitting Worsted, 1 skein each of White and Color.
Bucilla Plastic Needles, 1 pair Size 7.
Bucilla Plastic Crochet Hook, Size 4.
GAUGE: BEFORE DROPPING STS 5 sts = 1 inch; 7 rows = 1 inch
With color, cast on 49 sts for front edge. K 1 row, p 1 row for 6 rows. Drop color, join white. * With white k 2 rows. (Carry yarn not in use loosely along edge of work twist­ing the 2 yarns every 4th row.) Continuing with white, p 1 row, k 1 row for 6 rows. Drop white.
With color, k 1 row, p 1 row for 6 rows. Repeat from * until there are 6 rows of 28th colored stripe.
Next row—Bind off 5 sts, * take ball of yarn through loop on right needle, drop loop from needle and pull tight (thus binding off another st), drop next 2 sts from left needle and allow them to ravel out; leaving a sufficient length of yarn (about 1½ ins.) across 2 dropped sts to keep work flat, bind off next 3 sts; repeat from * across row, end last repeat bind off 5 sts. Ravel the dropped sts down to cast-on row. Purl side of white stripes is right side.
NECK EDGE—With a separate strand of color run a gathering thread up one long edge (where yarns were carried) holding in to 18 ins. Fasten off. With white and working from right side, work 1 row sc on gathered edge holding in to 18 ins. working an even number of sts. Ch 1, turn, work 1 sc in each st of row below. Break white. Join color, ch 4, turn, * skip 1 sc, 1 tr in next st, 1 tr in skipped st; repeat from *, end 1 tr in last st. Break yarn. Join color at beginning of last row, work 1 sc in first st, * skip 1 st, 2 dc in next st, ch 1, 1 sc in same st; repeat from *, end with a slip st in last st. Fasten off.
NECK CORD—Cut 3 strands of color each 4 yards long. Tie strands together at the end. Twist cord tightly. Fold double with ends meeting, allow to twist into a cord about 52 ins. long. Tie knot in ends of cord. Run cord through trebles at neck. Do not steam.
other patterns in leaflet: