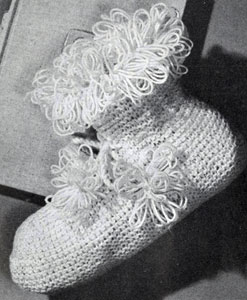 What You Need:
BEEHIVE SCOTCH FINGERING, 3 Ply (1 oz. skeins). 2 skeins.
Royal Society Knitting Pins, 1 pair No. 8.
GAUGE: 5½ sts make 1 inch: 10 rows make 1 inch.
Note: Because of elasticity of stitch this sock will fit sizes 8½ to 11.
Starting at bottom cast on 82 sts. Work in garter st (knit each row) for 2 rows, then increase 1 st at the end of each row until there are 96 sts on needle. Work straight in garter st until piece measures 2¼ inches in all. Then decrease 1 st at the end of each row until 82 sts remain.
Bind off 19 sts at the beginning of the next 2 rows. Work straight over the remaining 44 sts for 2 inches. Bind off.
Fold piece in half, then sew seam at bottom of foot and along front edge.
FRINGE … Attach yarn at top of sock and with crochet hook work as follows: Sc in next st, pull loop on hook out to measure 1½ inches (a loop made). * Insert hook in next st and draw loop through, yarn over and draw through loop on hook, pull loop on hook out to measure inches (another loop made). Make 5 more loops in same stitch. Repeat from * around top of sock. Fasten off.
CORD … Cut four 1¼-yard strands of yarn. Twist these strands tightly; then double the twisted strands and give them another twist in the oppo­site direction. Knot the free end. Pass cord through knitted fabric at ankle. To make tassel: Ch 2, make 40 loops (1½ inches long) in 2nd ch from hook. Fasten off. Sew a tassel at each end of cord.
other patterns in leaflet: