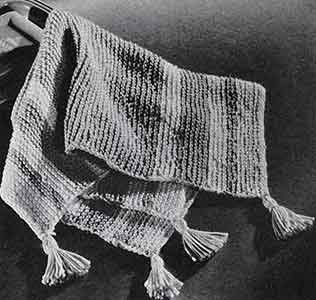 The simplest of stitches for practice knitting is the garter stitch. A very useful article can be made so that these practice minutes can be used to good advantage.
Materials: J. & P. Coats Crochet Cord, 1 ball of color 123 Salmon Pink and 1 ball of White. Bone knitting needles size 1.
With White cast on 92 sts. K plain for 10 rows, break off and attach Pink and k 4 rows. Then work 8 rows of White, 12 rows of Pink, 8 rows of White. Make the center section of Pink for 5½ inches. Attach White and finish pattern to correspond with other end. Make 4 tassels combining White and Pink and sew to each corner.
other patterns in leaflet: