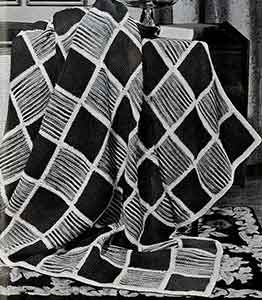 Knitted in simple garter stitch, alternating solid color blocks with variegated, this is an ideal project for a beginner.
COATS & CLARK'S "RED HEART" KNITTING WORSTED, 4 Ply (4 oz. "Tangle-Proof" Pull-Out Skeins): 6 skeins of No. 686 Paddy Green and 4 skeins of No. 1 White; 7 (3½ oz. skeins) of No. 970 Greens.
Knitting Needles, 1 pair No. 8.
Milwards Steel Crochet Hook No. 2/0 (double zero).
Afghan measures 51 x 73 inches . . . Motif measures 5½ inches square, including crocheted edge.
MOTIF (Make 59 with Paddy Green and 58 with Greens) … Cast on 20 sts. Knit 39 rows. Bind off (there are 20 ridges).
Edging: With right side facing, attach White to first bound-off st, (make 18 sc evenly spaced across side, 3 sc in corner) 4 times; join with sl st to first sc. Break off and fasten. Block to measurements.
With right sides together, picking up back loop only of each sc (front loops remain free on right side), sew 9 x 13 motifs neatly together, alternating col­ors and having the ridges on Paddy Green motifs in a horizontal position and the ridges on other motifs in a vertical position.
BORDER ... With right side facing, attach White to center sc of one edge. 1st and 2nd rnds: Ch 1, sc around, making 3 sc in each corner. Join. Turn at end of 2nd rnd. 3rd rnd (wrong side): Sl st in each st around. Join, break off and fasten. Block.

other patterns in leaflet: