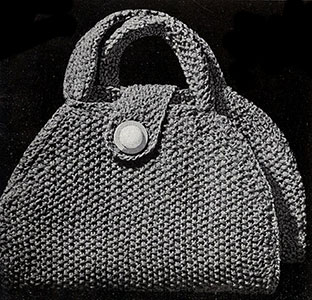 Materials: J. & P. Coats Knit-Cro-Sheen, color 126 Spanish Red, 4 balls. 2 large buttons. Milward's Knitting pins No. 3 (3 mm. size).
Entire bag is worked in Moss stitch, with thread used double. Cast on 37 sts. 1st row: K 1, p 1, across, ending with k 1. 2nd row: K 1, p 1, across, increase 1 st at end of row. Repeat 2nd row until there are 50 sts on needle. (13 rows) (Always work a k st over p st, and p st over a k st. (If row ends with k 1, start next row with k 1; and if row ends with p 1, start next row with p 1). Then work 28 rows straight, then 13 more rows, decreasing 1 st at end of each row, to correspond to other end. Bind off. Make another piece the same.
Then make 2 strips in Moss st, 14 sts to the row for 80 rows. Sew one end of a strip between folded sides of one piece, to form gusset, and the other end of the same strip between folded sides of other piece. This forms a handle between the bags. Sew in other strip the same way. Lay the 2 bags flat with the handles parallel to each other. Then turn one bag over so that the handles cross.
Hold the point of crossing together and lift up the bags. Sew a button about 1 inch below top of outer side of one bag, and the other button to correspond on other bag. Then make another strip 10 sts to row, 32 rows, making buttonholes on the 6th and 25th rows, by binding off 4 center sts (or to correspond to button) and casting on sts to replace them on following rows. Button strap as in illustration. Line bags as desired.
other patterns in leaflet: