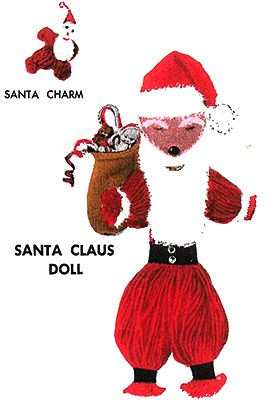 Simplified multi-color knitting with color charts. Stitch sequences numbered. Each row knitted across and purled back in the same colors.
INSTRUCTIONS—Knit the graph twice for the cap and pink face (head cover). The 2 flat pieces are then sewed together to form cap and front and rear of Santa's head. (Of course omit eyes etc., when knitting rear piece.)
IMPORTANT—Knit across and purl back EACH ROW before starting next row. (Each row shown thus represents 2 rows of usual knitting). Use size #2 needles.
For cap and pink face use knitting worsted, with knitting tension to produce approximately 7 stitches per inch. Pink face will then be correct size for a snug fit around ball (Styrafoam or other type, light in weight) used to form core for head. Use a core (ball) 3" in diameter, which is then correct size for smooth fit (with slight stretch) of this head cover, when the 2 halves are sewed together around the core. If you do not obtain correct gauge, change to larger or smaller needles as your particular tension and yarn texture requires.
For whiskers, use Angora yarn (the 100% French Angora is recommended since it is the fuzziest) and obtain approximately 7 stitches per inch (#2 needles).
SANTA CHARM—He makes a fine decoration for that "Special" Christmas package—also a nice Christmastime ornament for table decor designs, trim on that Christmas party dress or etc. Maybe a Christmastime Car Charm?
WHISKERS—This graph need be knit only once of course. Cast on 2 stitches of Angora in 2 places on the needle, using a separate short strand (about 30 inches) of yarn for right hand piece (sufficient for the 4 rows needed before joining work together). Purl back each piece. Continue knitting the 2 pieces on needles simultaneously. Knit 2nd row and perform increases for each piece as shown on graph. Purl back. Then to 3rd row etc. After 4 rows, increase 9 stitches in middle while knitting 5th row and join the two sections of work together. Purl back 5th row. Then to 6th row etc. Be sure and purl EACH ROW back to the beginning before moving to next row.
CHOICE OF DECOR—Knit in the eyes, nose and mouth, if you wish, with alternate color yarn (plain yarn, not Angora) or these parts may be made of felt, beads, glass jewels, rhinestones, or etc., which are simply glued or sewed on. (We recommend using the new transparent plastic glue for clean, positive results.) Model illustrated shows this alternate type of decoration. Santa's belt is made of black felt with 2 rhinestones for trim. Boots are also represented by strips of black felt, sewed in place after wrapping around yarn at tied points.
ANGORA EYEBROWS—CUFFS. Knit pieces of Angora 3 stitches wide for these parts. Strips about 1 inch long will suffice for eyebrows which are then sewed in place. Strips about 1½ inches long will be suitable for cuffs; sew these in place around yarn tie points.
ANGORA TRIM ON CAP—Knit a band of Angora 8 stitches wide and 10 inches long. This is then sewed in place at dividing line between red of cap, and pink of face, to form fur trim on cap.
TOY SACK—Santa's toy sack is made like the toe of a sock. Cast on 44 stitches of worsted on 3 double pointed sock needles and with 4th working needle knit round and round for 4 inches. Toe off.
DIRECTIONS
MATERIALS—4 oz. Red Knitting Worsted, 40 yds. Pink for face (head) (pink sock yarn or baby yarn could also be used), 30 yds. (1-10 gram ball) white Angora. Base for head is 3" diam. ball of any light-weight material with even surface. Styrafoam ball is recommended. These are usually obtainable at hobby shops, or florists, or may be carried by your yarn supplier.
Use a pair of size #2 needles for knitting cap, head cover (face) and Angora beard, etc. The 100% French Angora is recommended for beard and other trim, since it is the fuzziest and makes prettiest knitted results.
MAKING SANTA FIGURE—First remove 40 yards of red worsted from the 4 oz. skein and save to use in knitting the cap (or you may use other red yarn you have on hand—even sock yarn, or etc., which should, however, be a good matching color). Now wind 60 complete loops around a board or piece of cardboard 10 inches long, to use in making arms. Wind remainder of yarn around a board or stiff piece of cardboard 20 inches long for body. There should be enough for approximately 150 times around (loops)—See illustration. (If board is used on which to wind yarn, be sure it is smooth on end so yarn can be slid off of same easily.) Yarn stretches some in winding, so that when removed from board the loops will be about 18" long (arms 9 inches).
Now (with string) make a tight tie around outside of the group of yarn loops, as near to one end as possible—See Point A in illustration. Arrange the dangling mass of yarn loops into as neat a combed-out appearance as possible. Insert Styrafoam ball or other round core for head, in center of mass of yarns as shown, and execute another tie with string, around all the yarn below this head—Point B. Stretch and smooth yarn evenly as possible over surface of ball.
Now divide yarns in half (front and rear) and lay the 9" long group of loops for arms (ties around ends previously made—Points E) between these, making 3rd tie (Point C). Make this last tie lightly with strand of red yarn, since it will show somewhat in finished article, but is necessary to hold arms in proper place. Tie work again (with string) at Point D (waistline) about 2½ inches below Point C. Divide remaining lengths of yarn loops into 2 equal parts for legs and tie each, close to end (Point F). Cut all loops at extremities of legs and arms to give tufted appearance.
KNITTING—Knit cap and pink face (head cover) in 2 pieces as per directions and graphs on face of this pattern. Also knit Angora beard, cuffs, etc. as per directions given. Sew these items in place and proceed with other decoration (Santa's belt, eyes, etc.), using decorative pieces (felt, jewels, etc.) of your own choice. Be guided by the type and size of various parts as shown in photograph. The pom-pom on end of cap is made by winding Angora about 25 times around 3 fingers to form mass of small loops. Tie this mass of loops tightly with string, around center. Then cut the loops and trim resulting tufts into a rounded appearance. Santa's pack is pinned or sewed in place on yarn doll and filled with wrapped candies, etc.
MINIATURE SANTA—This cute decoration for packages and other Christmas displays, is made similarly to the large Santa. It can be made of most any kind of yarn (sock yarn, etc.) or worsted. Material required: about 10 yds. red, 4 yds. pink (face), 4 yds. white for pompom beard. Arms are 12 loops of yarn wound on card 2½" long. Body is 36 loops, 3½ inches long. Instead of inserting solid round core for head, simply wrap the ends of the body loops with pink yarn, winding it smoothly to form the head in a semi-rounded appearance. Insert arms and make tie around body only once below arms, forming waistline and holding arms in place. Tie extremities of arms and legs and cut loop ends to form tufts, as in making large Santa. Make tiny pom-pom of yarn or Angora for beard, by winding yarn around 2 fingers. Tie around center of loops thus formed, cut loop ends and trim to shape. Make cap from tiny piece of satin or other attractive material and glue or sew on a piece of white felt to represent fur trim. Sew on beads, etc., for eyes and other details as desired.
GENERAL DIRECTIONS
Each square equals one stitch, knitted and/or purled. Sequences of stitches in particular colors to form a pattern are shown in color and by numbers on the specific pattern graphs. This saves counting squares. The number of row and number of stitches in each, depend on the symmetry of the pattern design, also on the approximate size of sock desired in order to fit the wearer's leg. Size and dimensions are indicated in each particular pattern.
Each row is normally knitted and purled back in the same colors. For certain patterns which are easily repeated, the knitter may, in purling back, go to the next row. In this case the indicated pattern will be reduced in size by one-half, and the entire pattern must then be repeated in order to achieve the length indicated.
Heel, bottom of foot, and toe are knitted in the manner of plain socks. In certain patterns where the instep is a plain color, and the same color as the foot, this part of the sock may be knitted round and round as in plain socks.