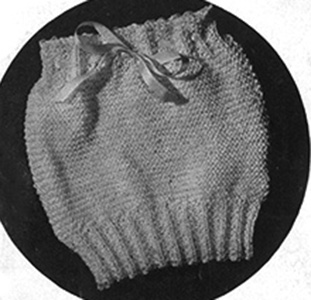 MATERIALS:
J. & P. COATS CROCHET CORD, 3 balls of White or Ecru, or 4 balls of any color.
Clark's O.N.T. Knitting Pins, 1 pair No. 4.
1 yard narrow ribbon.
GAUGE: (Garter Stitch) 6 sts make 1 inch, 10 rows make 1 inch. Double thread is used throughout.
Starting at waistband, cast on 45 sts very loosely. 1st row: * K 3, p 1. Repeat from * across, ending with k 1. Repeat this row for pattern stitch until piece measures 1½ inches. Next row: Knit, increasing evenly across to 61 sts. Work in garter st (k each row) until piece measures 7 inches in all. Next row: Knit, decreasing evenly across to 45 sts. Work in pattern stitch as at beginning for 5 inches. Inc again to 57 sts, work in garter st for 5½ inches, dec to 45 sts again and work in pattern stitch for 1½ inches. Bind off very loosely in pattern.
Starting at waistband, sew side seams together for 7 inches. Draw ribbon through pattern at waistband.
other patterns in leaflet: