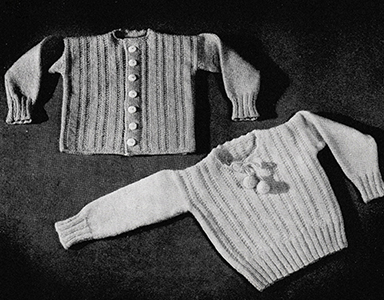 6 MONTHS TO 1 YEAR
MATERIALS REQUIRED
American Thread Company "Dawn" Pompadour Yarn.
White, Pink, Blue or Baby Pastels.
Cardigan—5 Balls
Slipon—5 Balls
1 Pr. of Bone Knitting Needles #1.
Gauge
8 sts = 1 inch; 10 rows = 1 inch
PATTERN
1st Row. K 2, P 2, K 2, P 4, repeat to end of row.
2nd Row. K across row. Repeat these 2 rows. The 2nd row is the right side of work.
CARDIGAN
BACK. Cast on 76 sts and work in pattern for 10 inches, bind off.
FRONT. Cast on 43 sts and start front edge with P 7, * K 2, P 2, K 2, P 4, repeat from * to end of row and K one row even. Repeat pattern. When work measures ¾ inch, work first buttonhole (P 2, bind off 3, P 2). On next row cast on 3 sts over the bound off sts.
Continue work, spacing the buttonholes 1¼ inches apart to neck.
When work measures 9 inches bind off 10 sts at neck edge, then decrease 1 st at the beginning of neck edge rows 4 times. When work measures 10 inches bind off. Work other front to correspond omitting the buttonholes. Sew shoulder seams.
SLEEVES. Place a marker 3½ inches down from shoulder of front and back, and pick up 27 sts on each side. Work sleeve in stockinette st. When sleeve measures 3½ inches from beginning decrease 1 st each side every inch 4 times (46 sts).
Next Row. On center 16 sts, K 2 together 8 times and work in ribbing until sleeve measures 8½ inches, bind off and work other sleeve to correspond. Sew Sleeves and underarm seams. Work 1 row of s c around edges. Around neck edge work scallop of 1 s c, 1 d c, 1 s c in 1st st, skip 1 st, 1 s c in next st, skip 1 st and repeat from beginning all around.
SLIPON SWEATER
BACK. Cast on 74 sts work in ribbing for 2 inches then work in pattern.
1st Row. P 4, K 2, P 2, K 2, repeat to end of row and K one row. Repeat pattern until back measures 10 inches, bind off.
FRONT. Work same as back until front measures 7 inches.
Next Row. Work center 8 sts in plain knitting. Divide sts in half, and work on one side until work measures 8 inches working the center 4 sts in plain knitting.
Next Row. Bind off 6 sts at neck edge and decrease 1 st at neck edge every other row 6 times and continue even until front is same length as back, bind off and work other side to correspond.
SLEEVE. Mark off 3¼ inches each side of shoulder seam, pick up 54 sts and work same a sleeves of cardigan.
Finish neck with scallop same as cardigan.
Crochet 2 cords about 6 inches long, finish with ¾ inch pompoms and attach to neck.
other patterns in leaflet: