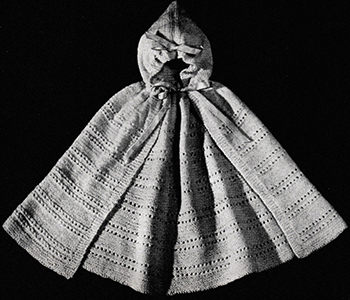 6 MONTHS
MATERIALS REQUIRED
American Thread Company "Dawn" Pompadour Yarn.
10 Balls White, Pink, Blue or Baby Pastels.
1 Pr. Bone Knitting Needles #3
2 yds. of Ribbon
Gauge
7 sts = 1 inch; 8 rows = 1 inch
Length of Cape—16 inches from neck.
Cast on 250 sts and K 10 rows. On remainder of cape the first 5 sts and last 5 sts are knitted in each row, this will not be referred to again. On the remaining sts work in the following pattern.
Purl 1 row, * K 2 rows.
3rd Row. Yarn over, K 2 together, repeat from the beginning and K 1 row. Next 10 rows work in stockinette st (K 1 row, P 1 row) decreasing 4 sts in every K row, spacing the decreases evenly. (Do not place decreases over previous decreases, move to a new point each row). Repeat from * decreasing 6 sts in every K row of stockinette stripe, then repeat from first * 4 times working all rows even.
Continue cape in stockinette st. Next 10 rows decrease 4 sts in every K row, and work 2 rows even. Next row K the 1st and last 5 sts and K 2 together on remaining sts. P 1 row.
Next Row decrease to 90 sts and work 5 rows even.
Next Row repeat 3rd row of pattern for beading and P 1 row.
Next Row starts the hood. K 1 row.
2nd Row. K 5 sts, P to within the last 5 sts, K 5.
3rd Row. K 5, over, 2 together, K to within the last 7 sts, K 2 together, K 5.
4th Row. Repeat 2nd row (Purl the over st.)
Repeat these 4 rows 12 times then K 5 rows and bind off. Sew the seam at top of hood and lace ribbon around hood and neck of cape.
The cape may be made of "Dawn" Shetland Floss or "Dawn" Saxony Yarn.
If Saxony yarn is used cast on about 20 more sts.
other patterns in leaflet: