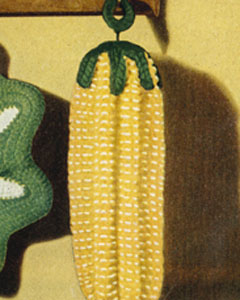 Materials Required: AMERICAN THREAD COMPANY "DAWN" KNITTING WORSTED, Article W 11 or W 41
1 oz. each of White, Amber and Golf Green
1 pr. knitting needles No. 7
Bone crochet hook No. 4
Starting at lower edge with White cast on 56 sts and K 1 row. Join Amber.
Next Row—* With White K 7, drop White, pick up Amber and K 7, repeat from * across row crossing yarn firmly at back of work.
Next Row—* With White K 7, pass White under needle toward you, then pass Amber under needle from you and with Amber K 7, repeat from * across row.
Repeat these 2 rows alternating the colors until work meas­ures 8 inches from the beginning, bind off leaving an end. Thread into needle and draw together inserting needle through every 7th st. Work other end in same manner. Sew sides together for 1 inch at top and lower end.
LEAVES: With Green ch 5, join to form a ring, ch 2, work * 1 s d c in ring (s d c: yarn over hook, insert in ring, pull through, yarn over and work off all loops at one time), ch 18, sl st in 18th st from hook, repeat from * 5 times, join in 2nd st of ch, cut yarn. Sew to top of holder as illustrated.
RING: With Green cover a bone ring with s c and attach to top of holder.
other patterns in leaflet: