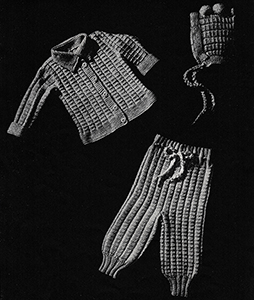 1 Pr. Standard Knitting Needles No. 3
Jack Frost Knitting Worsted—5 4-oz. Skeins
SWEATER: Cast on 70 sts. K for 16 rows. Work pattern as follows: Row 1—K 4 P 2. Row 2—P 4 K 2. Row 3—K 4 P 2. Row 4—K all. Repeat pattern until piece measures 8 inches. Bind off 6 sts at beginning of next 2 rows. Work pattern for 4½ inches, ending with right side. Work over 18 sts, bind off next 22 sts. On remaining 18 sts, work for 1 inch. Cast on 16 sts at neck edge. Keep 6 sts at neck edge worked in garter st for buttonhole band, remaining sts in pattern. Work 4 rows, then work 1st buttonhole as follows: Starting at front edge, K 2, bind off next 2 sts, work across row. Work back, cast on 2 sts over the 2 bound off sts. Repeat buttonholes every 2 inches to lower edge. Work from cast on 18 sts for 3½ inches. Cast on 6 sts for armhole, continue in pattern until piece measures 8 inches from armhole, including the K 16 rows. Bind off. Work left front to correspond, omitting buttonholes.
Sleeves: Cast on 36 sts. K for 2½ inches. Next row—Increase 4 sts at even intervals. Work pattern, increasing 1 st at beginning and end of every 8th row until sleeve measures 8 inches. Bind off 4 sts at beginning of each row until 16 sts remain. Bind off.
Collar: On right side of sweater pick up 64 sts from end to end, including bands. K 2½ inches. Bind off. Sew sleeve and side seams.
LEGGINGS: Cast on 106 sts. Work in ribbing K 2 P 2 for 3 inches. Work pattern for 7 inches, then work over 53 sts, place other 53 sts on stitch holder, add 12 sts for crotch. Continue pattern for 8 inches. Next row—K 2 tog. across row. Work in ribbing K 2 P 2 for 3 inches. Bind off. Pick up 12 sts that were added for crotch, work over these 12 sts and 53 sts the same as 1st leg. With double yarn, make a loose ch 32 inches long and lace thru as illustrated.
CAP: Cast on 82 sts. K 12 rows. Work pattern for 6 inches. Bind off. Fold piece up. Sew tog. on bound off sts. Pick up 48 sts across neck edge, K 1 P 1 for 1 inch. Bind off. Trim with 2 pompoms as illustrated. With 3 strands of yarn, work a loose ch 14 inches long to each side for tie strings.