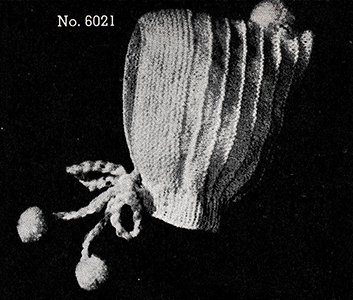 1 Pr. Standard Knitting Needles No. 2
Jack Frost Baby Yarn—1 1-oz. Ball or
Jack Frost Fingering Fleece—1 1-oz. Ball
Cast on 82 sts. K for 1½ inches. Pattern: Row 1—K. Row 2—P. Row 3—K. Row 4—P. Row 5—K. Row 6—K. Repeat these 6 rows for 4½ inches. Bind off. Fold in half and sew together. Pick up 48 sts on neck edge. K 1 P 1 for 1 inch. Bind off. With 3 strands of yarn, work a loose chain 12 inches long on each side for tie strings. Trim with pompoms as illustrated.