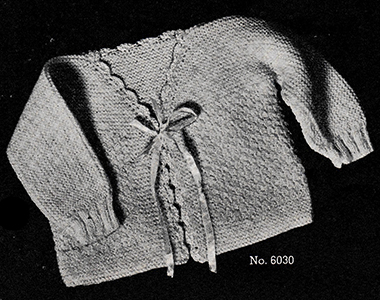 1 Pr. Standard Knitting Needles No. 2
1 Bone Crochet Hook No. 2
Jack Frost Sport Yarn—2 2-oz. Balls
Cast on 64 sts. K for 14 rows. Work pattern as follows: Row 1—K 2 P 2. Row 2—K 2 P 2. Row 3—P 2 K 2. Row 4—P 2 K 2. Repeat these 4 rows until piece measures 8 inches. Cast on 32 sts at beginning of next 2 rows for sleeves. Work garter st over sleeves and back for 3½ inches. K over 52 sts, bind off next 24 sts for back of neck. On remaining 52 sts work 1 inch. Continue in garter st, increasing 1 st at neck edge every other row for 3 inches. Bind off 32 sts for sleeve. Keep 6 sts in garter st on front. Work pattern on remaining sts for 7 inches. K 14 rows, bind off. Work other side to correspond.
Cuff: Pick up 36 sts, K 2 P 2 in ribbing for 2 inches. Bind off. With crochet hook, attach yarn on bottom of right front. Work 1 sc *, skip 2 sts, 5 dc in next st, skip 2 sts, 1 sc in next st; repeat from * around fronts and neck. Fasten off.