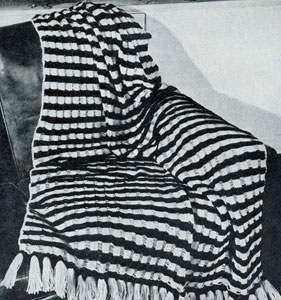 Size 48" x 87" without Fringe
Materials Required — AMERICAN THREAD COMPANY "DAWN" KNITTING WORSTED, ARTICLE W11
13 – 1¼ oz. Skeins Amber.
12 – 1¼ oz. Skeins Wood Brown.
1 Circular Steel Knitting Needle No. 8.
Bone Crochet Hook No. 5.
With Amber, cast on 149 sts and * K across row. Turn each row.
2nd Row. Purl across row. Repeat these 2 rows twice.
7th & 8th Rows. With Brown, knit across each row.
9th Row. Purl across row.
10th Row. Knit across row, repeat last 2 rows.
Attach Amber, repeat from * 37 times.
Repeat the 1st 6 rows of Amber.
Next Row. Bind off 3 sts, pull ball of yarn through the next st, K 1 and leave on needle, repeat from beginning across row, leaving every 5th st on needle. Drop all sts on needle and pull down as drop sts.
CAP FOR FRINGE. With Brown, ch 4, join to form a ring, 6 s c in ring, do not join rounds.
2nd Round. * 1 s c in each of the next 2 s c, 2 s c in next s c, repeat from *.
3rd and 4th Rounds. Work 1 s c in each s c, break yarn.
FRINGE. With Amber, wind 10 strands of yarn over a 5 inch cardboard, tie on top and cut other end. Pull yarn used to tie top of fringe through center of crocheted cap. Draw ends through center of solid Amber section, then back through crocheted cap and tie. Continue in same manner across each short end. With Amber, crochet a row of s c on long sides.
other patterns in leaflet: