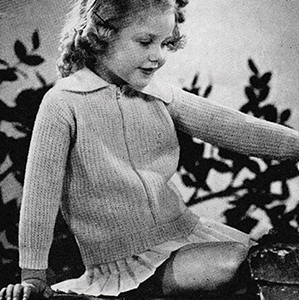 SIZE 3-4 YEARS
MATERIALS REQUIRED
American Thread Company "Dawn" Shetland Floss.
6 Balls, White or Colors
Knitting Needles 1 Pr. each, #2 and #3, 14 inches long
1—12-inch Talon Slide Fastener.
Pattern Gauge
12 sts = 2 inches; 18 rows = 2 inches
Pattern.
1st row. K 1 st, P 1 st.
2nd row. Knit.
BACK. On #2 needles cast on 78 sts and work in ribbing (K 1, P 1) for 2 inches.
Change to #3 needles and work in pattern for 7 inches.
Next 2 Rows bind off 3 sts at the beginning of each row.
Next 6 Rows decrease 1 st at the beginning of each row and work even until armhole measures 4½ inches, change to #2 needles and K 6 rows for yoke.
Next Row K 22, place these on a st holder, bind off 22 sts for back of neck and start front on remaining 22 sts. Continue in pattern. Work 4 rows even. Cast on 13 sts for front of neck and work 4 rows even. Change to #3 needles and continue front same as back to the ribbing. Place sts on a st holder and work other front to correspond. Join fronts and on #2 needles work 2 inches of ribbing.
SLEEVE. With #3 needles pick up 58 sts around armhole, work 6 rows in knitting then 8½ inches of pattern. Change to #2 needles and work ribbing for 1½ inches. Make other sleeve to correspond.
COLLAR. With #3 needles cast on 25 sts and K plain for 12 inches.
Sew underarm seams, attach collar and finish fronts with a Talon Slide Fastener.
other patterns in leaflet: