This free pattern originally published in the Botany College Hand Knits, Volume II, in 1958.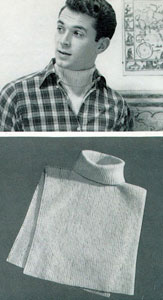 MATERIALS: BOTANY NYLON and WOOL SPORT, 7-1 oz. skeins. or BOTANY CLASSIC SPORT, 6-1 oz. skeins
KNITTING NEEDLES: "Boye" 10-in. Double Pointed Non-Inflammable Needles, 2 pairs Size 2 -OR SIZE YOU REQUIRE TO KNIT TO GAUGE GIVEN BELOW.
GAUGE: 10 sts = 1 inch
FRONT - Cast on 120 sts. Work k 1, p 1 ribbing until 10 ins. from beg.
Shoulders - Bind off 30 sts at beg. of each of next 2 rows. Place remaining 60 sts on holder.
BACK - Work same as front.
NECK - Take up 120 sts and divide evenly on 3 needles. Continue k 1, p 1 ribbing for 4 ½ ins. Bind off.
FINISHING - Sew shoulder seams. From right side, work 1 row sc on side edges. Steam.
Other great knit patterns from Botany College Hand Knits.
Knitting Patterns