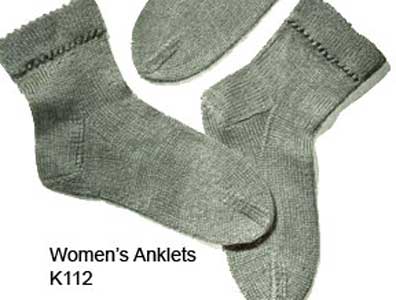 Sizes 8 to 12
MATERIALS: Chadwick's Red Heart Wool Floss, 2 balls (1 oz. balls) for Sizes 8, 9 and 10; 3 balls for Sizes 11 and 12.
Clark's O.N.T. Double-pointed Plastic Sock Needles, 1 set No. 2 (2 ¾ mm. size).
GAUGE: 8 sts make 1 inch; 10 rnds make 1 inch.
CUFF . . . Cast on 64 sts loosely. Divide sts on 3 needles and join, being careful not to twist sts. Work in stockinette st (k each rnd) for 1 ½ inches. Next rnd: * K 2 tog, O. Repeat from * around (64 sts—all O's are counted as 1 st on the next rnd).
Continue in stockinette st as before for 1 ½ more inches. Then on next rnd * k 2 tog, O. Repeat from * around (64 sts). Continue as before until piece measures 6 ½ inches in all.
Divide sts for Heel as follows: With 4th needle knit across 16 sts of 1st needle; slip 16 sts from 3rd needle onto other end of 4th needle (there are 32 sts on 4th needle). Divide remaining sts on 2 needles for Instep.
Work back and forth over the heel sts as follows:
HEEL ... 1st row: Sl 1, p across. 2nd row: Sl 1, k across. Repeat the last 2 rows alternately until piece measures 2 ¼ inches, ending with a p row (Fig. 3). See Completion of Classic Socks.
When sock is completed, turn cuff back at first row of holes and sew cast on edge to wrong side.
Other great knit sock patterns from Socks for Men & Women.
Knitting Patterns
Men's Socks I
Men's Tennis Socks
Men's Argyle Socks
Men's Hunting Socks
Men's Classic Socks
Women's Sport Anklets I
Women's Sport Anklets II
Men's Classic Rib Socks
Men's Pattern Socks
Women's Anklet Socks I
Men's Socks II
Women's Anklet Socks II
Women's Cable Anklets
Heelless Socks for Men or Women
Men's Striped Socks
Women's Anklets With & Without Cuff
Women's Argyle Anklets
Women's Tennis Socks