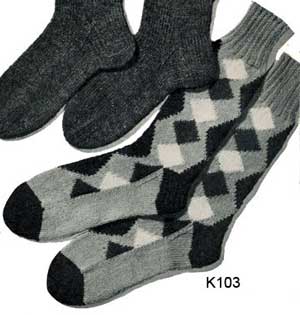 Sizes 9 to 12
MATERIALS: Chadwick's Red Heart Wool Floss, 3 balls (1 oz. balls) of Beige and 1 ball each of Cardinal Red, Yellow and Forest Green for each size.
Clark's O.N.T. Plastic Knitting Pins, 1 pair No. 3 (3 mm. size). Clark's O.N.T. Double-pointed Plastic Sock Needles, 1 set No. 3 (3 mm. size).
GAUGE: 7 ½ sts make 1 inch; 9 rows make 1 inch.
CUFF . . . With straight pins and Beige, cast on 64 sts. Work in ribbing of k 2, p 2 for 3 ½ inches.
Note: When changing from one color to another, always twist the unused color around the other to prevent making holes.
Now work in stockinette st (k 1 row, p 1 row), following chart until 79 rows are completed.
Starting at First Half of Heel complete as for K117, but having 16 sts on each side of marker when Instep shaping is completed.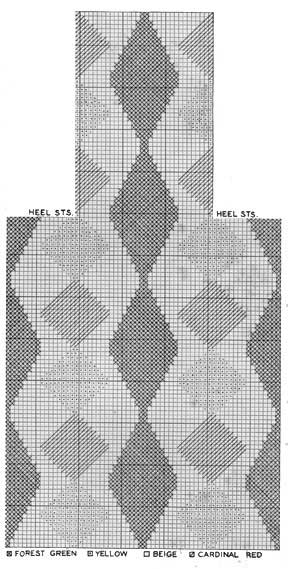 Other great knit sock patterns from Socks for Men & Women.
Knitting Patterns
Men's Socks I
Men's Tennis Socks
Men's Argyle Socks
Men's Hunting Socks
Men's Classic Socks
Women's Sport Anklets I
Women's Sport Anklets II
Men's Classic Rib Socks
Men's Pattern Socks
Women's Anklet Socks I
Men's Socks II
Women's Anklet Socks II
Women's Cable Anklets
Heelless Socks for Men or Women
Men's Striped Socks
Women's Anklets With & Without Cuff
Women's Argyle Anklets
Women's Tennis Socks