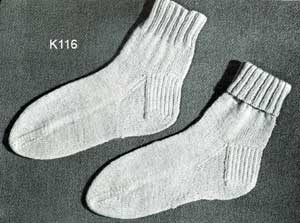 Sizes 9 to 12
MATERIALS: Chadwick's Red Heart Sock and Sweater Yarn, 3 balls (1 oz. balls) for each size.
Clark's O.N.T. Double-pointed Plastic Sock Needles, 1 set No. 2 (2 ¾ mm. size).
GAUGE: 8 sts make 1 inch; 10 rows make 1 inch.
CUFF . . . Cast on 64 sts loosely. Divide sts on 3 needles and join, being careful not to twist sts. Work in ribbing of k 2, p 2 for 4 inches for Cuff, or 2 inches without Cuff. Then work in stockinette st (k each rnd) for 2 inches.
Divide sts for Heel as follows: With 4th needle, k across 16 sts of 1st needle; slip 16 sts from 3rd needle onto other end of 4th needle (there are 32 sts on 4th needle). Divide remaining sts on 2 needles for Instep.
Work back and forth over the heel sts as follows:
HEEL ... 1st row: Sl 1, p across. 2nd row: * Sl 1, k 1. Repeat from * across. Repeat the last 2 rows alternately until piece measures 2 ¼ inches, ending with a p row (Fig. 3). See Completion of Classic Socks.
Other great knit sock patterns from Socks for Men & Women.
Knitting Patterns
Men's Socks I
Men's Tennis Socks
Men's Argyle Socks
Men's Hunting Socks
Men's Classic Socks
Women's Sport Anklets I
Women's Sport Anklets II
Men's Classic Rib Socks
Men's Pattern Socks
Women's Anklet Socks I
Men's Socks II
Women's Anklet Socks II
Women's Cable Anklets
Heelless Socks for Men or Women
Men's Striped Socks
Women's Anklets With & Without Cuff
Women's Argyle Anklets
Women's Tennis Socks