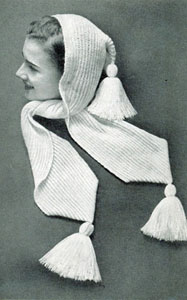 Materials Required: AMERICAN THREAD COMPANY "DAWN" NYLON or "DAWN" SWEATER AND SOCK YARN "SANFORLAN"-WON'T SHRINK OUT OF FIT
5 ozs. Med. Pink or Lt. Pink or color of your choice.
1 pr. knitting needles No. 2.
1 bicycle clip.
½ yd. 1 inch ribbon.
Cast on 46 sts and K 1 row.
2nd Row: K 2, * Y O, sl 1, K 1, repeat from * across row ending last repeat with K 3. Always slip st as if to purl holding yarn in back of work.
3rd Row: K 2, * Y O, sl 1, K the Y O and next st tog, repeat from * across row to within last 2 sts, K 2. Repeat the last row until work measures 58 inches, bind off.
TASSEL: Work same as tassel for Knot Stitch Cap opposite.
FINISHING: Fold piece in half and sew 7 inches down from fold sewing the border sts on inside of cap.
Fold 1st row in half and sew across. Turn work inside out to form a point. Finish opposite end in same manner. Sew a tassel to each point at lower edges and to point at top. Sew ribbon across front of cap ¼ inch in from outside edge. Insert bicycle clip through ribbon casing, sew ends.
Other great patterns from Star New Hats, Book No. 117:
Knitting Patterns
The Short Knitted Bulky
The Knitted Bulky Cardigan
The Knitted Bat Wing Bulky
Jibber
Knitted Cap with Scarf