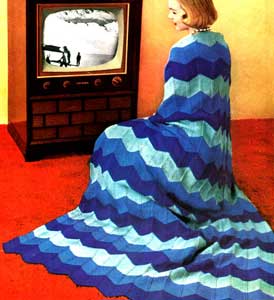 Afghan measures approximately 51 x 66 inches
MATERIALS:
CHADWICK'S RED HEART KNITTING WORSTED, 4 Ply, Art. E.232: 14 skeins (1 oz. "Tangle-Proof" Pull-Out Skeins) each of No. 809 Lt. Blue, No. 818 Blue Jewel and No. 848 Skipper Blue.
Milwards "Phantom" Aluminum Knitting Pins or Clark's O.N.T. Plastic Knitting Pins, 1 pair No. 5 (3 ¾ mm. size).
Clark's O.N.T. Plastic Crochet Hook No. 5.
GAUGE: 6 sts make 1 inch; 7 rows make 1 inch.
STRIP (Make 10) . . . With Skipper Blue cast on 31 sts. 1st row: K 1, inc 1 st in next st, k 11, k 2 tog, k 1, sl 1, k 1, p.s.s.o., k 11, inc 1 st in next st, k 1. 2nd row: P across. Repeat first and 2nd rows alternately until 22 rows have been completed. Break off Skipper Blue, attach Blue Jewel and work in pattern as before for 22 rows. Break off Blue Jewel, attach Lt. Blue and work in pattern for 22 more rows. Break off Lt. Blue. The last 66 rows constitute the pattern stripe. Continue in this manner, alternating colors as before, until 7 pattern stripes have been completed. Bind off.
Sew strips together and block. With matching color, make a row of sl sts along short sides of Afghan.
other patterns in leaflet: