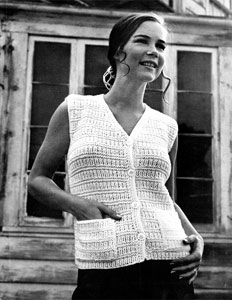 SIZE 16
MATERIALS:
1 Pr. Standard Knitting Needles #8
1 Bone Crochet Hook #4
3-4 oz. pull skeins, Jack Frost Wintuk Knitting Worsted type
Scale — 3 ½ sts. to 1 inch.
BACK:
Cast on 70 sts. K 1, P 1 for 2 rows, then work in pattern as follows: * K 1, P 1, for 4 rows, knit for 4 rows, repeat from * to underarm 14 inches. Bind off 6 sts. each side, work until armhole measures 7 ½ inches. Bind off 10 sts. at the beginning of each row twice each side. Bind off.
LEFT FRONT:
Cast on 40 sts. work the same as back to underarm, bind off 6 sts. at underarm then K2 tog. at neck edge every other row until 20 sts. are left. Work until armhole measures the same as back. Bind off 10 sts. from shoulder every other row twice.
RIGHT FRONT:
Work the same as left front, reversing shaping.
Pockets — cast on 20 sts. work in pattern for 5 inches. Bind off.
FINISHING:
Sew shoulders and sides.
BUTTONHOLE BORDER:
Row 1 — starting on right lower edge, work 1 row of single crochet to neck edge, work 2 sts. in 1, work around neck, 2 single crochets in top st. then work down left front.
Row 2 — (right side) * work 1 single crochet over next 9 sts. chain 2, skp 2, repeat from * 3 times, having top buttonhole at the V, work all around down left front.
Row 3 — starting on right front, single crochet all around, work 2 single crochets over the chain 2.
Work 1 row of single crochet around pockets. Work 2 rows of single crochet around armholes.
Sew pockets in place.
Block with a damp cloth.
Other great patterns from The Gypsy Vest Book, No. 75:
Knitting Patterns
Knit Vest 1
Knit Vest 2
Knit Vest 3
Knit Vest 4
Cardigan
Sleeveless Cardigan
Bolero
Turtle Neck Shell
Turtle Neck Sleeveless
Round Neck Pullover
Raglan V Neck
Turtle Neck Pullover
Crochet Patterns