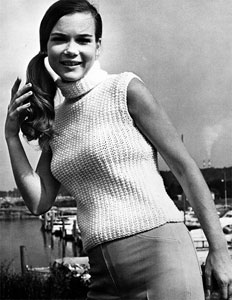 SIZE 14 to 16
MATERIALS:
1 Pr. Champion Standard Knitting Needles #8
1 Bone Crochet Hook #3
3-4 oz. pull skeins, Jack Frost Wintuk Knitting Worsted type
Scale — 4 sts. to 1 inch.
BACK:
Cast on 69 sts. work in pattern as follows:
Row 1 — (Right side) purl across the row.
Row 2 — K1, P1 across the row, ending K1.
Repeat these 2 rows for pattern, work to underarm 13 inches. Bind off 4 sts. each side then work until armhole measures 7 ½ inches. Bind off 10 sts at the beginning of each row twice each side, then start pattern on row 2, this reverses pattern. Work for 6 inches. Bind off.
FRONT:
Work the same as back to underarm. Bind off 4 sts. each side. Work until armhole measures 5 ½ inches, slip the center 15 sts. on st. holder. Work 1 side at a time K2 tog. at neck edge every other row 3 times. Work even until armhole measures the same as back. Bind off 10 sts. from shoulder edge every other row twice. Work other side the same.
FRONT TURTLE COLLAR:
On wrong side of work pick up 47 sts. from shoulder to shoulder. Work in pattern for 6 inches. Bind off.
FINISHING:
Sew sides and shoulders, sew side of collar with a slip st. Work 2 rows of single crochet around armhole. Bind off.
Block with a damp cloth.
Other great patterns from The Gypsy Vest Book, No. 75:
Knitting Patterns
Knit Vest 1
Knit Vest 2
Knit Vest 3
Knit Vest 4
Cardigan
Sleeveless Cardigan
Bolero
Turtle Neck Shell
Turtle Neck Sleeveless
Round Neck Pullover
Raglan V Neck
Turtle Neck Pullover
Crochet Patterns