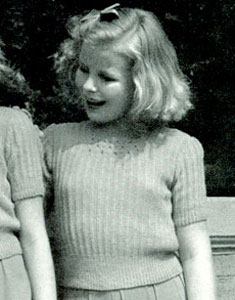 Size 10 to 12 yr. — Scale: 6 ½ sts to 1 in.
1 Pr. Standard No. 2 Needles—14 in.
1 Pr. Standard No. 5 Needles—14 in.
Jack Frost Imported Fleece—4 1-oz. Balls
Follow instructions given for Speed Knit Ribbed Blouse.
SMOCKING: On right side of garment run a basting thread thru the 10 center ribs of K 1, 5 rows below the bound off sts at front of neck. Run 2 more basting threads below the first, with 5 rows between each. Working from right side, with contrasting color yarn, if desired, insert needle under first and second ribs of K 1 at first basting, passing needle over the 3 P sts between. Draw these 2 sts together tightly, and work over them in an overhand st twice (smocking st). Fasten off on wrong side. Repeat smocking over 3rd and 4th ribs, and each successive K rib across the row until 5 smock sts have been made. Repeat smocking every 6th row until 3 smocked rows in all have been made.
Other great patterns from Sweaters for Boys and Girls, Jack Frost Volume 46:
Knitting Patterns
Girl's V Neck Pullover
Boy's Striped Pullover
Tennis Pullover
Boy's or Girl's Pullover
Striped Pullover I
Girl's Cardigan I
Boy's Pullover
Boy's Sport Shirt I
Boy's or Girl's Cardigan
Boy's Sport Shirt II
Girl's Cardigan II
Striped Yoke Pullover
Girl's Pullover I
Matching Cardigan
Girl's Pullover II
Girl's Classic Blouse
Fingering Yarn Pullover
Garter Stitch Yoke Pullover
Boy's Sport Shirt III
Striped Pullover II
Cable Stitch Sleeveless Pullover
Ribbed Sleeveless Pullover
Crew Neck Sleeveless Pullover
Sport Cardigan
Speed Knit Ribbed Blouse
Speed Knit Yoke Blouse
Speed Knit Smocked Blouse
Raglan Sleeve Windbreaker
Crew Neck Pullover I
Boy's Cardigan
Classic Pullover
Crew Neck Sport Sweater
Classic Cardigan
Crew Neck Pullover II
V Neck Sport Sweater
V Neck Sleeveless Pullover
Willow Yarn Cardigan
Willow Yarn Cable Cardigan I
Willow Yarn Cable Cardigan II
Boy's or Girl's Striped Pullover
Box Cardigan
Crew Neck Pullover III