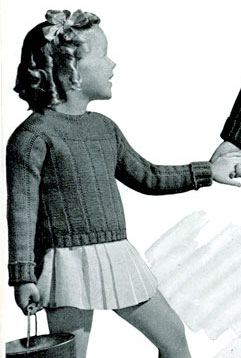 Size 4-5
MATERIALS REQUIRED—American Thread Company "Dawn" Shetland Floss.
5 1-oz. Balls, Red or any color desired.
1 pr. Bone Knitting Needles No. 3.
Measurements — Length from top of shoulder 14 inches.
Width all around at underarm 25 inches. Underarm length of sleeve 13½ inches.
Gauge 13 sts = 2 inches. 19 rows = 2 inches.
FRONT. Cast on 76 sts, K 2, P 2 across row. Con­tinue work in ribbing for 1 inch.
Next Row—Work in ribbing and increase to 88 sts (increase about every 6th st).
Next Row—Begin pattern.
1st Row—K 8, P 2, repeat to end of row ending with K 8.
2nd Row—Purl across row, repeat these 2 rows even until back measures 8¼ inches from the beginning.
Next 2 rows bind off 6 sts at the beginning of each row and work 5 rows even.
Next row start the seed st yoke, working armhole even. P 36, work next 4 sts in seed st (seed st—1st row. K 1, P 1, K 1, P 1 2nd row. P 1, K 1, P 1, K 1). P 36. Then continue adding 4 seed sts at each side every other row until all sts are worked in seed st and continue even in seed st until armhole measures 4 inches.
Next Row—Work 22 sts and slip them on a st holder, bind off 32 sts for front of neck and work across remaining 22 sts as follows—work 1 inch even. Cast on 16 sts for one side of neck and work 1½ inches in seed st.
Next Row—On right side of work start slanting the Yoke by working the 4 sts at armhole edge in pattern and the remainder of sts in seed st. Continue adding 4 more sts in pattern every other row until the entire row is in pattern. On the last row of Yoke pattern you will add only 2 sts. (Last row should end at neck edge.) Place these sts on a st holder.
Pick up the 22 sts on other st holder and work to correspond, pick up the first half of work and con­tinue across entire back until armhole measures 9 inches from the beginning.
Next 2 Rows—Cast on 6 sts at armhole edge and work in pattern until back is the same length as front to ribbing. Next row decrease to 76 sts and work in ribbing of K 2, P 2 for 1 inch.
SLEEVES. Pick up 58 sts along armhole edge and work even in pattern for 1 inch. Next row decrease 1 st each side then decrease 1 st each side every 10th row 6 times. Work even until sleeve measures 10½ inches. Next row decrease 6 sts equal distances apart and work in ribbing of K 2, P 2 for 1¾ inches.
Press carefully and sew seams. Crochet a row of s c around neck and back easing in the neck slightly if necessary and rounding it a little. Work 7 ch loops for buttonholes and finish with buttons.
For size 6-8 add 10 sts to front and back and 10 sts for the sleeves and follow directions making the body of sweater and sleeves the length desired.
other patterns in leaflet: