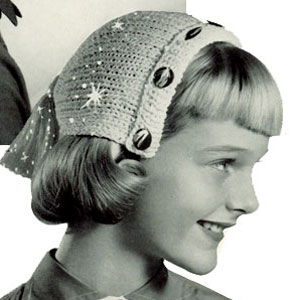 COATS & CLARK'S O.N.T. "SPEED-CRO-SHEEN" MER­CERIZED COTTON, Art. C.44: 1 ball of No. 1 White; and
J. & P. COATS "KNIT-CRO-SHEEN" METALLIC, Art. A.64: 1 ball of No. M.1 White.
Clark's O.N.T. Plastic Knitting Pins, 1 pair No. 1 (2½ mm. size) and 1 pair No. 8 (5 mm. size).
7 Walco coin size sequins, Style No. 314 ... Plastic hat clip ... ½ yard of white grosgrain ribbon, 1 inch wide.
GAUGE: No. 8 knitting pins—5 sts make 1 inch; 5 rows make 1 inch.
Starting at outer edge of cuff with No. 8 knitting pins and 1 strand each of "Speed-Cro-Sheen" and "Knit-Cro-Sheen" Metallic, cast on 65 sts. Work in ribbing as follows: 1st row: K 1, * p 1, k 1. Repeat from * across. 2nd row: P 1, * k 1, p 1. Repeat from * across. Work in ribbing until piece measures 7 inches in all. Change to No. 1 knitting pins and continue to work in ribbing until piece measures 8½ inches in all. Next row: K 1, * k 2 tog. Repeat from * across. Bind off tightly. Break off, leaving a 6-inch length of thread. Draw sts together, pull up tightly and fasten off se­curely on wrong side.
TASSEL ... Cut a cardboard 4x6 inches. Using both strands of thread, wind thread 45 times around the 4-inch length. Break off. Draw a double strand of thread under one end and tie securely. Cut opposite ends. Wind a strand several times around, 1 inch below tied end. Trim ends.
Sew up back seam for 2 inches. Turn back outer edge for 1 inch to form cuff. Sew ribbon to inner side of bonnet. Insert hat clip between bonnet and ribbon. Sew up short ends. Trim cuff with sequins as illus­trated. Sew tassel in place.
Other great patterns from Hats and Bags, Book No. 310.
Crochet Patterns
Sparkling Beaded Dutch Cap
Jeweled Fez
Sparkling Cloche
Ripple Brim Hat
Sparkling Sailor Hat
Roll Brim Hat
Sparkling Fishnet Hat
Sparkling Ponytail Cap
Sparkling Beanie
Pigtail Beanie
Sparkling Beaded Dutch Bag
Jeweled Bag
Sparkling Bag I
Ripple Brim Bag
Sparkling Sailor Bag
Roll Brim Bag
Sparkling Bag II

Knitting Patterns