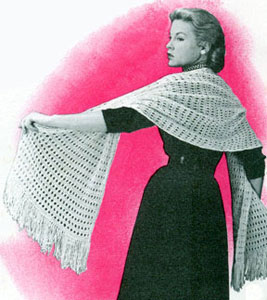 MATERIAL: 11 Skeins Kentucky All Purpose Metallic Yarn No. 103
Knitting needles size 8—Aluminum crochet hook size G
GAUGE: 4 sts = 1"
Cast on 79 sts. Rows 1-4: Knit. Row 5: K 1, * yo, K 2 tog, rep from * across row. Rep these 5 rows (pat­tern st) until stole measures about 67" (or any de­sired length). Bind off on row 4 of pattern st. Work sc along each side of stole.
Fringe:
Wind yarn around piece of cardboard 5" wide. Clip yarn along one edge to make loops 5" long. In­sert crochet hook upward thru first st on end of stole. Then pass hook thru loops of 2 of the fringe strands and pull thru st on stole. Pass the 4 loose ends of the fringe thru loop and pull up tightly against end of stole. Repeat in each st at both ends of stole.
Other great patterns from New Designs for Every Purpose, Book No. 3.
Knitting Patterns
Variegated Knitted Rug
Wee Willie Winkie Infant Soaker with Bib
Golden Metallic Fringed Stole
Crochet Patterns
Cuff 'n Pocket Stole
Two-Toned Topper
Bib 'n Tucker Collar & Belt
Ace High Luncheon Set
Turnabout Apron/Cape
Top Knot Turban & Bag
Pinwheel for Pots Potholder
The Williamsburg Rug
The Lexington Rug
Tie-On Chair Seat
Cap for Cottons
Variegated Crocheted Oval Rug
Craft Patterns