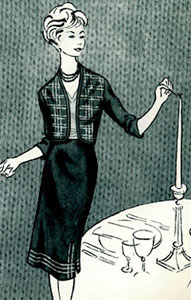 Directions are for Size 10. Changes for Sizes 12, 14, 16 and 18 are in parentheses.
MATERIALS REQUIRED:
Columbia-Minerva Featherweight Knitting Worsted (2 oz skein) - 5(5-5-6-6) skeins
Knitting Needles: 1 pair "Boye" Size 5 and one "Boye" steel crochet hook Size 1
Gauge: 6 sts to 1 inch; 8 rows to 1 inch
BACK: Cast on 125(131-137-143-149) sts. Work in St St for 9 rows, K next P row for turn of hem, inc'­ing 1 st each side - 127(133-139-145-151) sts on needle. Continue in St St until skirt measures 15 inches from turn of hem for 26-inch skirt, for longer or shorter skirt make adjustment here, ending on right side of work. On next row place 8 markers on needle as follows: Wrong side, * P 14(15-16-16-17), place a marker *, repeat from * to * 3 times more, P 15(13-11-17-15), place a marker, repeat from * to * 3 times more then P 14(15-16-16-17). Dec Row: K 2 tog before first 4 markers and after last 4 markers - 8 decs made. Repeat this dec row every 2½ inches twice, then every 1½ inches 3 times more - 79(85-91-97-103) sts on needle. When skirt measures 26 inches or desired length from turn of hem, bind off.
FRONT: Work same as Back.
Sew side seams. Turn up hem and sew. Work 1 row of sc around top edge, then work casing for elastic at inside of waistline.
Be Sure Your Stitch Gauge Is Correct
Other great patterns from The Jubilee Collection!, Book No. 738.
Knitting Patterns
Cable Jacket
Slipover
Lady's Shawl Collar Cardigan
Man's Shawl Collar Cardigan
Cardigan
Slipover
Lady's Argyle Pullover
Man's Argyle Pullover
Raglan Cable Jacket
Cable Slipover
Lady's Ski Slipover
Man's Ski Slipover
Fringed Slipover
Raglan Cardigan
Cardigan
Satin Trimmed Cardigan
Bolero Jacket
Lady's Double Breasted Jacket
Man's Double Breasted Jacket
Slipover
Two-Tone Jacket
Cardigan
Jacket
Lady's Cable Turtle Neck Sweater
Man's Cable Turtle Neck Sweater
Cardigan
Lady's Cardigan
Man's Cardigan
Jacket
Lady's Ski Sweater
Man's Ski Sweater
Raglan Cardigan
Lady's Hooded Cardigan
Man's Hooded Cardigan
Car Coat
Straight Skirt
Flared Skirt
Overskirt & Dirndl
Crochet Patterns
Loop Jacket
Short Jacket