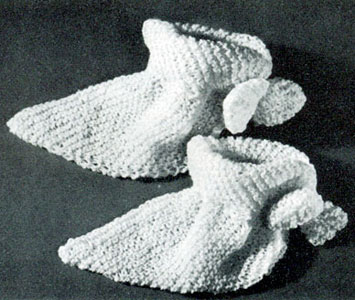 Soft and cozy, for all women's sizes.
COATS & CLARK'S "RED HEART" SUPER FIN­GERING, 3 Ply (1 oz. "Tangle-Proof" Pull-Out Skeins): 2 skeins of No. 722 Lt. Pink.
Knitting needles, 1 pair No. 13.
½ yard of narrow elastic.
GAUGE: 9 sts = 2 inches; 7 rows = 1 inch.
Starting at back seam, cast on 40 sts. Knit across. Now work as follows: 1st row (lower edge): K 1, inc one st in next st, k to end of row. 2nd row: K 1, k 2 tog, k to end of row. Repeat these 2 rows alternately for 6½ inches, ending with 2nd row. Next row: Repeat 2nd row. Fol­lowing row (top edge): Repeat first row. Repeat last 2 rows alternately until total length is 13 inches. Bind off. Fold in half. Sew sole seam. Sew lower 4 inches of back seam.
Cuff: Fold 2 inches from top edge and sew edge to right side of sock leaving 2½ inches free at back. Cut elastic in half and draw through cuff, sewing ends of elastic together. Fold point at end of cuff to form a straight edge extending beyond back seam, sewing edges to­gether. Complete point at opposite end the same way. Thread needle with a one yard length of yarn, double and knot, draw through each narrow end of cuff and pull tightly winding several times around to form a bow.
other patterns in leaflet: