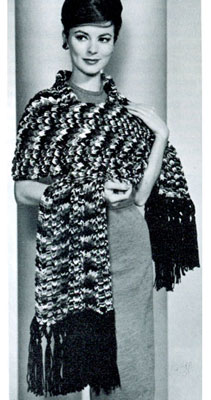 22 x 66 inches (excluding fringe)
COATS & CLARK'S "RED HEART" KNITTING WORSTED, 4 Ply ("Tangle-Proof" Pull-Out Skeins): 12 ounces of No. 971 Palette and 4 ounces of No. 12 Black.
Knitting needles, 1 pair No. 10½.
GAUGE:
(before dropping st)—5 sts = 1 inch; 17 rows = 4 inches;
(after dropping st)—6 patterns = 9 inches; 7 rows = 2 inches.
NOTE: The actual knitting measurements are 13 x 58½ inches. After the sts from last row are dropped, the blocked stole will measure 22 x 66 inches.
Starting at narrow edge, cast on 65 sts loosely. 1st row (wrong side): K 1, O, k 2, * p next 3 sts tog, but before taking them off needle k these 3 sts tog, then p them tog, slip off needle—triple st made, k 1. Repeat from * across to within last 2 sts, k 1, O, k 1. NOTE: Do Not Count The O As a Stitch. 2nd row: K 1, drop the O, k 1, * p 1, k 3. Repeat from * across to within last 3 sts, p 1, k 1, drop O, k 1. Repeat these 2 rows for pattern. Work even in pattern until total length is about 58½ inches, ending with first row. Last row: K 1, drop the O, k 1, * drop the purl st from left hand needle, k 3. Repeat from * across to last 3 sts, drop the p st, k 1, drop the O, k 1. NOTE: In binding off, sts must be worked loosely. Bind off as follows: Bind off the first 2 sts in knit­ting, * (slip the st from right hand needle to left hand needle and knit this st) 3 times; bind off next 3 sts in purling. Re­peat from * across, binding off last 2 sts in knitting. Run the dropped sts from last row down to opposite edge. Block to 22 x 66 inches.
FRINGE ... Cut 4 strands of yarn each 22 inches long. Work as for Knotted Fringe of Quickie Stole Pattern. Make a fringe in every triple st and every space between, across each narrow edge. Make 2nd row of knots 1½ inches down and in the center between previous knots.
other patterns in leaflet: