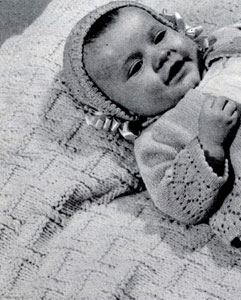 MATERIALS:
Warmth without weight, is the idea with this new carriage cover. Interesting to knit and quick too, with Beehive Caressa, the wool used to check these instructions. In order to be completely satisfied with the finished article, do be sure to use Beehive Caressa. You will need:—8 (2oz.) skeins. Two No. 4 Beehive Knit­ting Needles.
MEASUREMENTS: Approx. 31 ins. x 36 ins.
Tension: 4 sts. = 1 inch and 11 rows = 2 ins. in Stocking st.