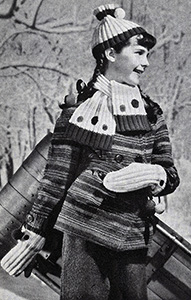 Materials: Chadwick's Red Heart Germantown Zephyr, 5 balls (1 oz. balls) of main color and 2 balls each of 2 contrasting colors, referred to as A and B.
Milward's Casein knitting pins, 1 pair No. 4 (3½ mm. size).
Milward's steel crochet hook No. 2.
A set of 5 double pointed needles, No. 9.