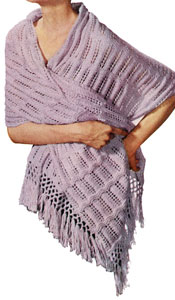 22 x 68 Inches Without Fringe
This stole can be made with any of the following:
"DAWN" or CLOVER LEAF" NYLON POMPADOUR
or
"DAWN" or "CLOVER LEAF" NYLON
or
"DAWN" MEDIUM WEIGHT POMPADOUR
or
"DAWN" BABY YARN
10 ozs. Baby Lavender or Orchid or color desired.
1 pr. plastic knitting needles No. 6.