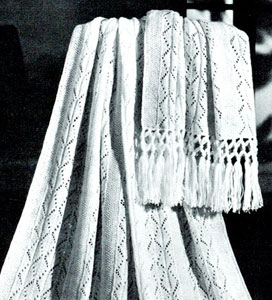 All the delicate tracery of frost on the pane is apparent in this lovely lace pattern. Especially designed as a light throw to use in your feminine bedroom.
COATS & CLARK'S "RED HEART" SUPER FINGERING, 3 Ply, Art. E. 239 (1 oz. "Tangle-Proof" Pull-Out Skeins): 24 skeins of No. 1 White.
Knitting needles, 1 pair No. 5.