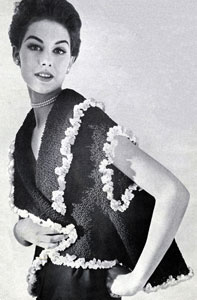 So simple to knit—yet so versatile to wear.
MATERIALS:
SPINNERIN TOPPER
17, 1 oz. sks. MC Navy 3006
4, 1 oz. sks. CC Magnolia White 3000
1 Pr. Knitting Needles No. 4
Crochet Hook No. 1
Other color suggestions:
Black 3011—Magnolia White 3000
Cocotone 3009—Grege 3007
Flamingo Red 3008—Black 3011.
GAUGE: 6 sts = 1".
PATTERN:
Garter St (K every row).
With MC cast on 60 sts. Work in Garter st, inc one st at each end of every other row until piece measures 7", (114 sts). Now divide piece for armhole as follows: Knit first 57 sts, turn. Now work in Garter st on these 57 sts until armhole measures 7". Do not bind off. Place these sts on another needle to be worked later. Now work the other 57 sts in Garter st for 7". Join both pieces by working off sts from the other side onto the same needle. Then work even on the 114 sts until piece measures 18" from armhole. Now divide work in half and work the same as for first armhole. Join both pieces and dec one st each end every other row until 60 sts remain. Bind off.
FINISHING: Ruffle: With crochet hook No. 1 and CC, attach yarn in edge; ch 6, sl st in same st; * ch 6, sl st in same st; then ch 6, sl st in next st *; repeat from * to * around.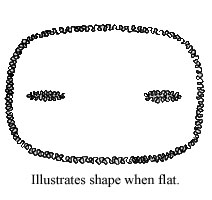 other patterns in leaflet: