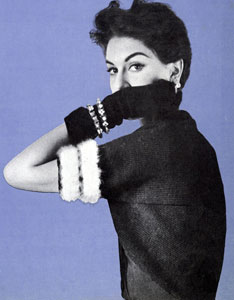 MATERIALS:
SPINNERIN Shrink-Resistant CANDOUR
2, 3 oz. sks. (MC) Black 809
SPINNERIN Shrink-Resistant TOP FLIGHT
1, 1 oz. pull sk (CC) White 801
SPINNERIN BALLET
2, ¼ oz. Balls (CC) White 2
1 Pr. Knitting Needles No. 2
1 Set Double-Pointed Needles No. 3 (d.p.n.)
Crochet Hook No. 00
Other color suggestions:
Navy 807—White 801—White 2
Scarlet 808—White 801—White 2.
GAUGE: 7 sts = 1".
PATTERN:
Stockinette St (K 1 row; P 1 row alternately.)
With MC and No. 2 straight needles, cast on 136 sts. Work even in Stockinette St for 26 ins. Bind off. Fold piece in half lengthwise and starting at open end, seam sides tog for about 7½ ins, leaving 5½ ins open to fold for armhole. Then, with the No. 3 d.p.n. and using 2 strands of Top Flight and one strand of Ballet, pick up 78 sts around armhole. * K1 round and then work in ribbing of K3, P3, for about 1". Change to MC and work 4 rounds of Stockinette St *. Now change to the CC and repeat from * to * once more, chang­ing to MC when working Stockinette St. Bind off.
FINISHING: With MC and crochet hook No. 00, work 3 rows of sc around lower edge. Block.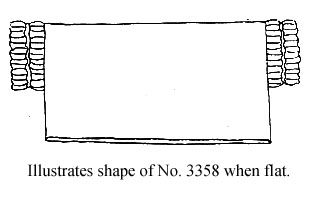 other patterns in leaflet: