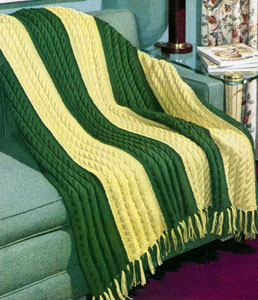 Approximately 45 x 63 Inches
MATERIALS: Chadwick's Red Heart Knitting Worsted, 30 balls (1 oz. balls) of Green and 22 balls of Yellow … Clark's O.N.T. Knitting Pins, 1 pair No. 5 (3¾ mm. size).
STRIP … Starting at narrow end, cast on 51 sts. 1st row: K 13, (p 3, k 8) 3 times; k 5. 2nd row: K 5, p 8, (k 3, p 8) 3 times; k 5. 3rd row: K 5, * slip next 4 sts on a stitch holder and hold in back of work, k the following 4 sts, k the 4 sts from the stitch holder (cable made), p 3. Repeat from * 2 more times; make another cable, k 5. 4th row: Repeat 2nd row. 5th to 10th rows incl: Repeat 1st and 2nd rows alternately. Repeat 3rd to 10th rows incl until piece measures 3 inches, ending with the 4th row. Bind off in ribbing.
Make 4 Green strips and 3 Yellow strips. Alternat­ing Green and Yellow strips, sew strips together neatly on wrong side.
FRINGE … Cut 3 strands each of Green and Yellow, each 8 inches long. Double these strands to form a loop. Insert hook in end of afghan and draw loop through, then draw loose ends through loop and pull up tightly. Make a fringe every ½ inch across each short side. When fringe is completed trim ends evenly.
other patterns in leaflet: