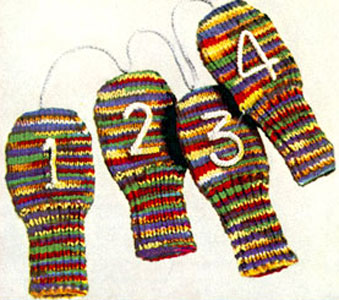 CHADWICK'S RED HEART KNITTING WORSTED, 4 Ply, Art E.232: 2 skeins (1 oz. "Tangle-Proof" Pull-Out Skeins) of No. 950 Mexicana; and
COATS & CLARK'S O.N.T. "SPEED-CRO-SHEEN" MERCERIZED COTTON, Art. C.44: 1 ball of No. 1 White.
Clark's O.N.T. Plastic Knitting Pins, 1 pair No. 2 (2¾ mm. size) and 1 pair No. 5 (3¾ mm. size).
Milwards Steel Crochet Hook No. 1/0 (zero).
GAUGE: 6 sts  make 1 inch; 7 rows make 1 inch.
Starting at lower edge with No. 2 knitting pins, cast on 30 sts loosely. Work in ribbing of k 1, p 1 for 3½ inches, increasing 6 sts evenly across last row. Change to No. 5 knitting pins and work in stockinette st (k 1 row, p 1 row) until piece measures 6 inches in all, ending with a purl row.
To Shape Top: 1st row: (Sl 1, k 1, p.s.s.o., k 14, k 2 tog) twice. 2nd and all even rows: P across. 3rd row: (Sl 1, k 1, p.s.s.o., k 12, k 2 tog) twice. Work in this manner, decreasing 4 sts every other row until 20 sts remain, ending with a purl row. Bind off. Make 3 more Mitts the same way.
To Form Numbers: Print numbers 1, 2, 3 and 4 on a piece of paper, having each number 2 inches high, then with White "Speed-Cro-Sheen" and No. 1/0 hook, make a chain long enough to form number, sl st in 2nd ch from hook and in each ch across. Break off. Sew number to Mitt. Complete all Mitts the same way. Attach "Speed- Cro-Sheen" to tip of first Mitt, (make a chain 6 inches long, sl st in tip of next Mitt) 3 times. Break off.
other patterns in leaflet: